3 – 6 – 9 BOWLING TOURNAMENT
Saturday October 13, 2018
11:00am & 2:00pm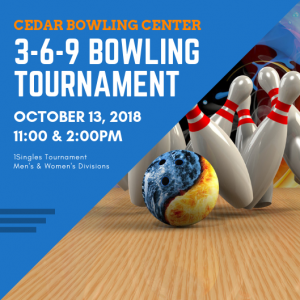 1. This is a SINGLES TOURNAMENT with 2 Divisions: MEN'S & WOMEN'S
(USBC CERTIFIED) Participants must hold a current USBC card (usbc rules apply)
2. This is a handicap event: 90% of 210
3. Averages Used:
A. Highest 2017-18 Cedar Bowl League Book of 21 games or more
B. Highest 2017-18 League Book Ave of 21 games or more
4. Bowl 4 Games, throw out lowest.
5. PAYDAYS ARE GIVEN($1) if a bowler Bowls a Strike in the 3rd, 6th & 9th Frames.
6. SQUAD TIMES: Sat. Oct. 13th @ 11:00 am & 2:00 pm.
7. Prize Money will be distributed 1 in 3 entries (sidepots allowed)
8. Deadline for Entries: Thurs Oct 11th'18 @ 8 PM
9. Participants are allowed to bowl in each squad.
10. Paydays will be paid at the end of each squad.
11. Our Bowling Association will contribute $50. Cedar Bowl will
contribute $100 to prize fund if 25 or more bowlers participate
12. (Tournament director will be responsible for in house averages)
Submit Entry at Front Desk or Tyraludgate@hotmail.com (559-0431) by Oct 11th, 2018 @ 8pm
Cedar Bowling Center
421 E Hwy 91
Cedar City, Ut 84721
435-586-1383
BOWL 2 TOURNAMENTS IN THE 2018-2019 LEAGUE SEASON, YOU WILL BE ENTERED IN OUR BIG CASH DRAWING THE LAST TOURNAMENT OF THE SEASON
A one time Participation fee $10 paid to Iron Co Assoc. bowlers from other Associations. Good June 1, '18 – June 30, '19
Download our information flyer by clicking here.