3 – 6 – 9 BOWLING TOURNAMENT
Saturday October 12, 2019
11:00am & 2:00pm
Deadline to enter is October 10, 2019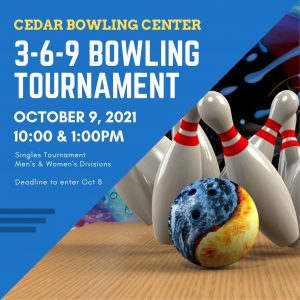 1. This is a SINGLES TOURNAMENT with 2 Divisions: MEN'S & WOMEN'S
(USBC CERTIFIED) Participants must hold a current USBC card (usbc rules apply)
2. This is a handicap event: 90% of 210
3. Last season's highest ending book average of 21 games or more.
4. Bowl 4 Games, throw out lowest. (Tournament Director is responsible for in house averages) No house averages.
5. PAYDAYS ARE GIVEN($1) if a bowler Bowls a Strike in the 3rd, 6th & 9th Frames.
6. SQUAD TIMES: Sat. Oct. 9th @ 10:00 am & 1:00 pm.
7. Prize Money will be distributed 1 in 3 entries (sidepots allowed)
8. Deadline for Entries: Firday Oct 8, 2021 @ 5 PM
9. Participants are allowed to bowl in each squad.
10. Paydays will be paid at the end of each squad.
11. All bowlers must be signed in and paid 15 min. prior to start time. NO EXCEPTIONS. Lane assignment will be drawn for at the time of sign-in. Bowler may request only one other bowler on the same lane.
Submit Entry at Front Desk or Tyraludgate@hotmail.com (435-559-0431) by Oct 8th, 2021 @ 5pm
Cedar Bowling Center
421 E Hwy 91
Cedar City, Ut 84721
435-586-1383
BOWL 2 TOURNAMENTS IN THE 2019-2020 LEAGUE SEASON, YOU WILL BE ENTERED IN OUR BIG CASH DRAWING THE LAST TOURNAMENT OF THE SEASON
A one time Participation fee $10 paid to Iron Co Assoc. bowlers from other Associations. Good June 1, '21 – June 30, '22
Download our information flyer by clicking here.