NEW YEARS DAY BOWLING TOURNAMENT
Tuesday January 1, 2019
12:00 NOON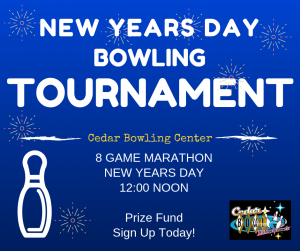 This is a SINGLES TOURNAMENT held in two divisions:
A Division – 170 average and above;
B Division – 169 average and below. USBC CERTIFIED – all participants must hold a current membership card, an affiliation card or purchase a participation card.
This is a handicap event. Handicap for both divisions is 100% of 210.
Averages will be determined by:
Highest current Cedar Bowl league averages of 21 games or more as of 12-21-18
B. Highest current league average of 21 games or more as of 12-21-18
C. 2017-2018 book average (for bowlers who do not have a current league average).
Participants who report incorrect averages will be disqualified. (USBC rule #319a). It is the bowlers responsibility to verify his/her own average. Rules 319d & e will be waived.
 Bowlers without averages under rule #3 will be assigned the following averages:
Men – 185
Women – 155
The 8 games will be bowled across 10 lanes ( more if needed). Bowlers will move one pair of lanes to the right after each game. (Exam: Lanes 9 & 10 to 1 & 2)
Practice will be limited to 5 minutes on each lane prior to the start of the first game.
No entry fee will be returned. Prize money will be distributed 100% on a 1 in 3 ratio.
Participation and competition for sidepots, if any, is allowed.
Any rule or incident not covered in the rules shall be governed by USBC tournament rules.
CHECK IN TIME @ 11:30 am, Jan 1st, 2019.
Submit Entry at Front Desk or Tyraludgate@hotmail.com (559-0431) by Dec 27th, 2018 @ 8pm
Cedar Bowling Center
421 E Hwy 91
Cedar City, Ut 84721
435-586-1383
BOWL 2 TOURNAMENTS IN THE 2018-2019 LEAGUE SEASON, YOU WILL BE ENTERED IN OUR BIG CASH DRAWING THE LAST TOURNAMENT OF THE SEASON
A one time Participation fee $10 paid to Iron Co Assoc. bowlers from other Associations. Good June 1, '18 – May 31, '19
Download our information flyer by clicking here.