PRO SHOP
Enjoy our full service Pro Shop.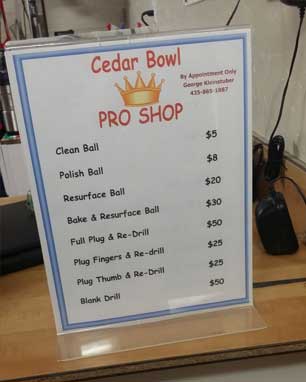 HOURS
Wednesday 11am to 5pm
Friday 11am to 5pm
Saturday 11am to 5pm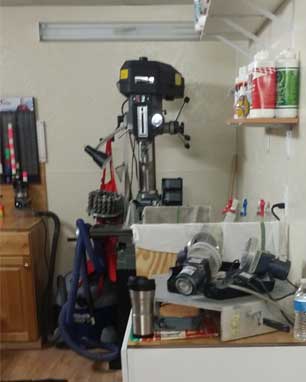 Cedar Bowling Center is proud to offer our customers an amazing Pro Shop right on our premises. Managed by George and Karen Kleinstuber.
Some of the services we offer:
We can re-drill your ball, put new finger tips in your current ball, polish your ball to make it go longer or ruff it up to make it move more. We sell new and used bowling balls.
George and Karen love to spend one-on-one time with bowlers to help them understand their bowling ball. Understanding your bowling ball is a big part about the lessons we can provide. Both of us have helped many people in the past to gain the understanding, just what you are doing wrong and understanding how to fix it. As the signs say at the bowling center it will take just 4 lessons to make you a better bowler.
When you purchase a new ball from Cedar Bowling's Pro Shop you can lessons for as little as $15.00 an hour. We also offer lessons for $20.00 an offer if no ball is purchased.
Please stop in and say hi to Karen and George. We look forward to meeting and working with you.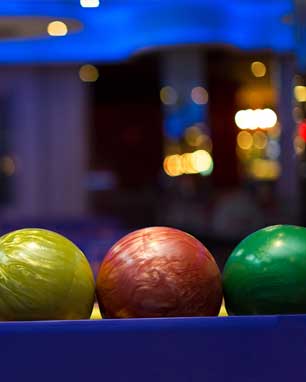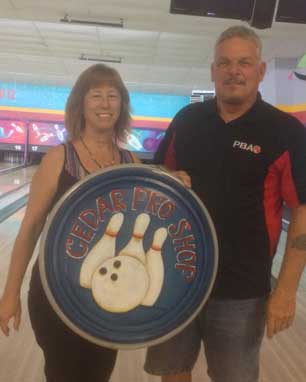 About George and Karen Kleinstuber
Residents of Parowan, Utah. George and Karen are excited to be part of Cedar Bowling Center.
George has been a PBA member for over 40 years. With 98 perfect 300 bowling games to his credit you'll be amazed at what George can do for your bowling game. Having drilled balls since the age of 14 his expertise is amazing. George previously worked for the great Wayne Zahn of Tempe Bowl, Tempe, AZ. George also specializes in bowlers with arthritis hands and offset thumbs.
Karen is an accomplished bowler as well. She particularly enjoys worked with ladies. Karen can help you be a better bowler and you'll add enjoyment to your game.
George and Karen "truly care about how you bowl. Please come and say hi".
Ready to take your game to the next level?  We can get you there.